Roswell Park again ranked No. 14 on U.S. News list of top cancer centers; only regional facility on list
BUFFALO, N.Y. — Roswell Park Comprehensive Cancer Center remains the only cancer care facility in Western and Upstate New York to earn a place on U.S. News & World Report's Best Hospitals list. The Buffalo-based cancer center has retained its no. 14 position among the Best Hospitals for Cancer based on U.S. News' comprehensive review of numerous indicators of the quality of its care.
The ranking, announced today, positions Roswell Park among the top 1.5% of cancer hospitals across the nation, and one of only two facilities in New York State among the top 15 cancer centers.
"It takes all of us to achieve a record like Roswell Park's. Our commitment is to be a Roswell where everyone feels like they're part of something bigger than themselves, and you see that reflected in our performance in assessments like this," says Roswell Park President and CEO Candace S. Johnson, PhD, also M&T Bank Presidential Chair in Leadership at the cancer center. "We are working tirelessly to build more bridges of opportunity, to develop the talents of every employee so that we can all keep making a real difference for our patients and community. And that generates great pride across the team that earned this status as one of the nation's most impactful cancer centers."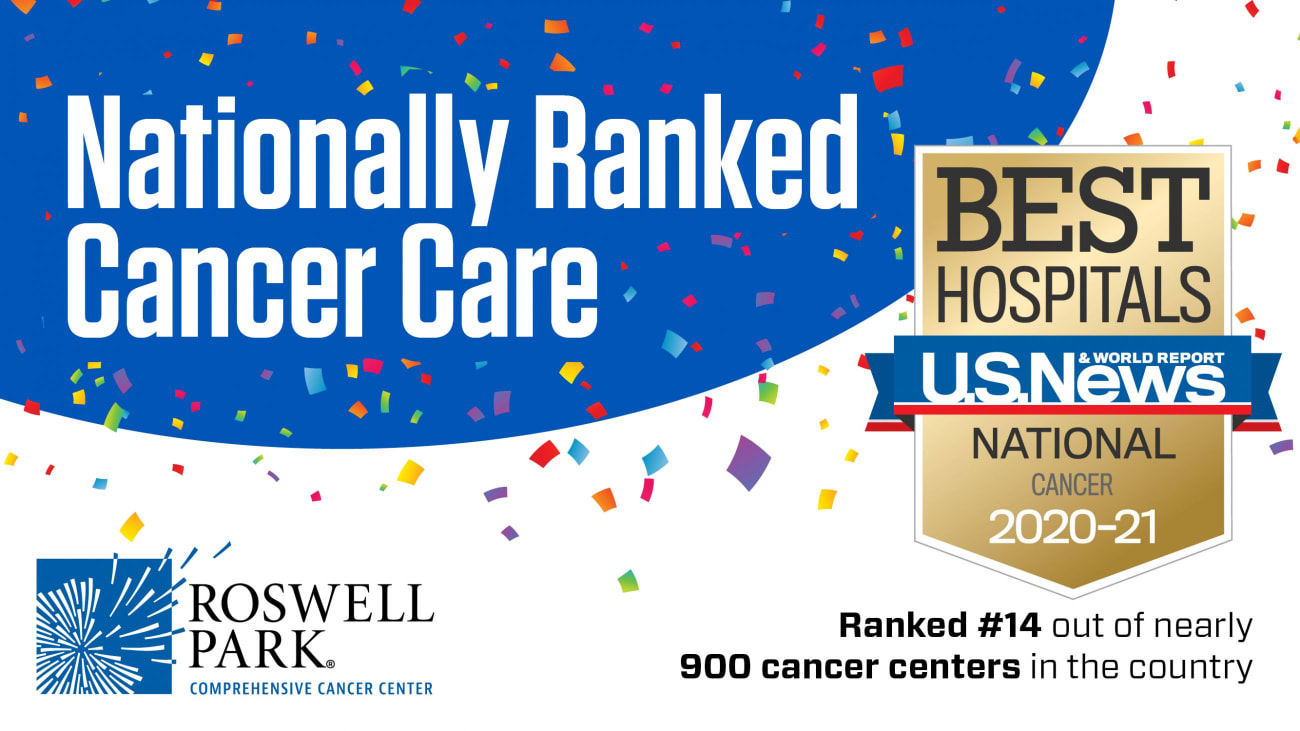 Roswell Park earned special recognition once again as a high-performing center in two subspecialty areas — colon cancer surgery and lung cancer surgery — and received the top possible scores in categories including patient survival, patient experience, patients going home after hospitalization and advanced technologies.
U.S. News & World Report annually evaluates more than 4,500 hospitals across 16 specialties to help patients make informed decisions about their medical care. Roswell Park is one of only 134 centers this year to be nationally ranked in any specialty.
"Quality is the focus in everything we do, and it shows," says Stephen Edge, MD, FACS, FASCO, a surgical oncologist and Vice President of Healthcare Outcomes and Policy at Roswell Park. "Even as the criteria for this list get more exacting every year, we consistently perform well in side-by-side comparisons with America's other elite cancer centers because we put the patient at the center of every decision and build our care around them."
For the second consecutive year, Roswell Park has been ranked No. 14 on U.S. News & World Report's Best Hospitals for Cancer list.
Roswell Park has been recognized by many organizations for the quality of its care. In addition to its status as a U.S. News Best Hospital for Cancer, the cancer center has been recognized as a Blue Distinction Center for Cancer Care, Blood and Marrow Transplants and Cellular Therapy; an Optum Cancer Center of Excellence; an Age-Friendly Health System; an approved Commission on Cancer center; and consistently receives patient-satisfaction scores that are among the highest in the country.
"For more than 30 years, U.S. News & World Report has been helping patients, along with the help of their physicians, identify the Best Hospitals in an array of specialties, procedures and conditions," says Ben Harder, Managing Editor and Chief of Health Analysis at U.S. News. "The hospitals that rise to the top of our rankings and ratings have deep medical expertise, and each has built a track record of delivering good outcomes for patients."
The U.S. News & World Report Best Hospitals rankings are now in their 31st year. For more information on the 2020-21 rankings, see health.usnews.com/best-hospitals and health.usnews.com/best-hospitals/rankings/cancer.