Chair of Thoracic Surgery at Roswell Park, Dr. Sai Yendamuri, shares insights into an exciting phase I trial evaluating the side effects of intraoperative photodynamic therapy (PDT) with porfimer sodium in enhancing the response to immunotherapy with an immune checkpoint inhibitor drug in patients with non-small cell lung cancer with pleural disease. Developed at Roswell Park, PDT is a technique that works by combining a photosensitizing agent (porfimer sodium in this trial) and an intense light source to kill tumor cells. Photodynamic therapy may decrease the patients' symptoms and improve their quality of life.
Related Presenters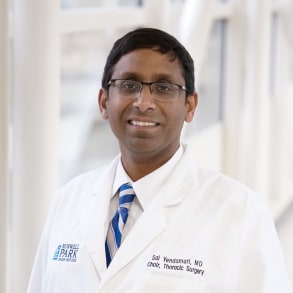 Chair, Department of Thoracic Surgery
Professor of Oncology
Attending Surgeon, Department of Thoracic Surgery
Director, Thoracic Surgery Laboratory
Education and Training: MD - All India Institute of Medical Sciences, New Delhi, India Residency: MD Anderson Cancer Center, Houston, TX New York Hospital Medical Center of Queens/Cornell University, New York, NY Christiana ...