Sarbajit Mukherjee, MD, MS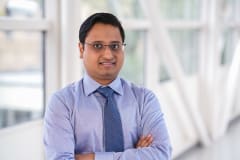 I am a gastrointestinal (GI) medical oncologist with a research interest in gastroesophageal cancers and cancer immunotherapy. I completed my clinical training in adult hematology-oncology at the University of Oklahoma, USA, and research training at Oklahoma Medical Research Foundation, where I gained extensive, hands-on lab experience. I also earned a Master's degree in Clinical and Translational science during my fellowship. Besides, I attended several workshops, including the prestigious Vail workshop, to hone my clinical research skills. I became board certified in both Hematology and Medical Oncology in 2018.

I have had the opportunity to serve the American Society of Clinical Oncology (ASCO) as a volunteer. I have been a member of the Trainee Council Working Group, Clinical Practice Guidelines Committee, and the Professional Development Committee at ASCO. I have also served on multiple guidelines panel for ASCO. I am a panel member at the National Comprehensive Cancer Network(NCCN). I also serve as a member of the board of directors at the Esophageal Cancer Action Network.

I have been fortunate to receive many awards, including memberships in Alpha Omega Alpha medical honor society and Gold Humanism Honor Society. I also received a merit award from ASCO.

My current work focuses on novel clinical trials in GI malignancies using circulating tumor DNA as a correlative marker. I have conducted multiple investigator-initiated clinical trials, including an NCI (National Cancer Institute) funded phase 2 trial, as a principal investigator. Besides, I am also interested in understanding the impact of obesity on immune dysfunction in cancer. I received peer-reviewed grants from NCCN and North American Neuroendocrine Tumor Society (NANETS). My work has been presented at many national/international conferences and published in high impact journals like Nature Medicine. I have peer-reviewed scientific articles for several prestigious journals like Clinical Cancer Research.

For me, caring for a cancer patient is more than treating a disease; it's a healing process that involves both the patient's body and mind. I would like to see myself as a successful clinical and translational researcher and a compassionate physician, and a thought leader in the field of GI cancers.
---